Circulation Policies

Policies: borrowing privileges and responsibilities
Getting a library card
All Windham residents may obtain a library card free of charge. Children who are five years and older and live in Windham (and can print their first and last name) and students in the Windham Public School system may apply for a library card. Non-residents of Windham pay $20.00 annually for a single or a family membership. When applying for a card at the circulation desk, we will request adults to show identification with name and current address. Children 16 years and younger will need a parent or legal guardian's signature.
Responsibilities of getting a card
By signing the library card application, all patrons– regardless of age– accept that they are responsible for each item which they check out. This means that any damage that occurs while the item is in the patron's care and any overdue fees accrued because items are returned late are fully the patron's responsibility. Parents are responsible for any fees which their child accrues. Patrons owing more than $5.00 in fines should promptly pay their fees, since their circulation privileges are temporarily revoked until the fees are completely paid.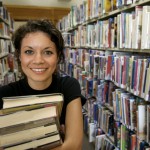 Item limits
Patrons may check-out a total of 50 items on their accounts. However, there are limits on various types of materials based on how large the collections are. The library has 2 separate Circulation Counters: one in the Children's' Room and one in the Adult/Teen Section. Within the "Total of 50 items" that each patron is allowed, each patron may check-out from each Circulation Counter 5 magazines, 4 videos (VHS), 4 DVDs, 4 audio CDs, 4 audio cassettes, 4 music CDs, 4 music cassettes, 2 kits, and the remaining balance of books.
Lending times
All items should be stamped with a "Due date" so patrons know when they are due back to the library. All movies (VHS & DVD) from the Windham Public Library circulate for 1 week. All other items from the Windham Public Library circulate for 3 weeks. Please call the library if you are unsure of the due date of an item, or you may see the Due Date of your items by logging into your account at http://windham.kohalibrary.com.
Most items may be renewed (see below) twice as long as no other patron has reserved them and the item has not already been renewed twice before. Special Request items, which have been borrowed from another library, may not be renewed at all.
Renewing– extending the due date
Items may be checked-out for an extended period of time–"renewed"– provided the item has not been requested by someone else. Patrons may stop by the library to renew items in person, call in to renew items by phone (892-1908) or renew items online at http://windham.kohalibrary.com. If you call to renew, the librarian will need the name and library card number that the item(s) is checked-out on, so please have that information handy. Special Request items may not be renewed.
Returning items after-hours
There is a Book-drop and a Movie-drop next to the lobby door. All items (except some over-sized books and the lending telescope, which simply cannot fit) may be returned in the Book-drop; we just ask that movies be returned in the Movie-drop so they do not get crushed. Feel free to return items in these drops any time of the day, especially when the library is closed (after-hours, weekends, holidays). We encourage patrons to return late items in the drops so their fines will stop accruing, but ask that they please do not put money in the drops at any time. We ask that patrons wait to pay fines the next time they are in the library. The fees will not continue to accrue once the item is placed in the drop.
Overdue fees
When items are returned past the "Due date" there is an overdue fee charged. Items from the Children's' Room accrue a 5c/per day fee when returned late. Items from the Teen/Adult Section accrue a 20c/per day fee when returned late. Please call to renew your items, or return them in the Book-drop/Movie-drop up until midnight of the due date, to try and avoid any overdue fees. If you call to renew, the librarian will need the name and library card number that the item(s) is checked-out on, so please have that information handy when you call (892-1908).