Mission and History
Mission of the Windham Public Library
Windham Public Library is your center for community, information, technology and entertainment by powering learning and fun for all ages. Read more about our mission, vision, values, core services, and strategic goals…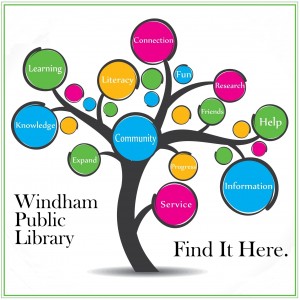 ---
History of the Windham Public Library
The Windham Center Circulating Library was the seed that bloomed into our current Windham Public Library. "A few neighbors living on the Windham Center Road… loaned their books to each other as a winter pastime… when Mrs. Marcia Hanson moved to Windham Center, a short distance away, she placed all books given to her in a closet of her home and started the first library in this locality. Others joined her and the Windham Center Circulating Library Association was formed in 1873 with officers and board of directors.
Although records were destroyed of that early organizational meeting, it is thought that Mrs. Mary Anthonine was the first president and Mrs. Marcia Hanson was the first secretary, treasurer and librarian. It is definitely established that Mrs. Nabbie Gould was the first vice president and that one means of fund raising was by public readings and lectures. After outgrowing the private home, a small building was rented from Mr. Fred S. Hawkes and purchased by the Association in 1907. One record shows money placed in a bank in 1887 and there were earlier funds from book-lending fees and fines which were used without deposit."(1)
The Windham Center Circulating Library Association, with Mrs. Gladys Jones as Librarian, continued to serve the local residents for many years. As the collection and needs of the community expanded over the years, a Library Building Committee was formed to look into the future of the library. In 1970, the Committee reported that the "very small building at Windham Center… cannot serve our needs. It is not possible to expand this building, therefore, if changes are to be made, a new building must be considered."(2) As plans were made to build a new, town-funded public library, plans were also made to close the old building. "This library at Windham Center has served the community continuously for approximately one hundred years… [it] closed its doors on December 27, 1971 when all its books were transferred to the new Town Library building. Although not the first library to be founded in this town, it is the oldest in continuing service to its' people".(1)  In 1972, the Windham Center Circulating Library Association was disbanded, but its legacy continues to serve the community today.
---
Windham Public Library, 1971 – 1991
"In April of 1971, appointment of a committee to oversee construction of a new Public Library for Windham was made by the Selectmen… Construction was begun in August with the basic contract being awarded to the L. C. Cooper Company. Foremost in the minds of the committee was the desire to provide adequate library service to a growing community, with the construction of a quality, low maintenance facility, which would be sufficient for many years."(3)
"On December 27, 1971, transfer of all volumes and equipment from the Windham Center Circulating Library Association, was made into the new Windham Public Library… We ask that everyone avail themselves of this fine new library, and the services which we intend to offer."(4) "Dedication and Open House were held on Sunday, April 23, 1972, at which time your Trustees honored Mrs. Gladys Jones for her many years of devotion."(6) The Windham Public Library "was officially dedicated and is being extensively used, not only by our citizens, but by citizens of some of the neighboring communities. Mr. William Crane and the Library Trustees have done a superlative job in making our Library one of the finest in the area."(5)
The following years verified the success of the new library within the community. "Usage in the Library in terms of the number of books circulated shows a marked increase over 1972, with a total of 32,894. This is an increase of approximately 50%, and your Trustees feel very gratified that we are part of this excellent service for the Town."(7) In 1973 and 1974, the Library Trustees reported on new projects at the library which benefited various members of the community. The purchasing of Large Print books and involvement in the "Talking Books" program, through the efforts of Librarian Mrs. Myrle Cooper,(7) have benefited blind or sight-impaired people. Mrs. June Hawkes initiated a service for residents of local nursing homes, "bringing books and magazines, as well as showing movies each week"(8) which continues to this day.
The preschoolers' Story Hour, run by Mrs. Susan Dries, was "extremely well attended", as were an Arts and Crafts program. Other cultural programs, such as a film series on great art, were conducted and well attended. "Our customers are the citizens of Windham, and like any other business we must continue to provide the services required and requested by you… The growth we continue to experience is very rewarding to your Trustees, and hopefully to all of the town." (8)
---
Windham Public Library, 1992 – 2015
The next twenty years saw the library's collection, programs, and staffing increase as they tried to keep up with the needs of the thriving community. Circulation of materials had reached an incredible 99,103 in 1992, showing the continuing demand for more and more library materials, as well as the use of the building.
"The need for additional and improved space for collection materials, programming, and handicap accessibility issues prompted the formation of a Library Building Addition Committee in 1991. Thanks to a $200,000 state grant, the Committee– chaired by Emerson Joy– worked quickly to complete the necessary groundwork for the addition. With an architect– Dick Reed– and a construction manager– Leon "Buzzy" Cooper, Jr.– in place, the project moved forward."(9) The additional space and changes were completed, and on October 17, 1993, the library held an official ribbon cutting ceremony for the new addition. "The new public meeting room for library programming and non-profit use, and the elevator for handicap accessibility, were especially welcome changes for the library."(10)
Shortly after the addition was completed, the library completed work that had been begun years earlier in order to automate the library collection and the circulation system. In 1997, the library moved from paper to digital records. The computerized system, called Winnebago, allowed library staff to track the circulation of library materials much more efficiently. As computers became more integrated with patrons' personal lives, the library helped lead the way by providing computer, printer and internet access to the community. Free wireless internet (wi-fi) access became available a few years later as part of the Federal E-Rate program. As technology changed, the Windham Public Library took steps to keep current. Since then, the Windham Public Library continued to grow and change with the needs of the community. Circulation of library materials in 2011 climbed to nearly 114,000, helping to prove that the library was still a popular and much-used institution for the Windham community. In 2014, the library joined the statewide library consortium called Minerva. As one of over 60 libraries on the system, the Windham Public Library patrons had easy, self-requesting access to millions of items across the state. With delivery service five days a week, most items were shipped and received within days of being requested. The online catalog gave library patrons access to their accounts anytime day or night and allowed them to request items at their convenience.

In 2015, the Windham Public Library expanded their collection even further with the addition of two downloadable services. The first was the 3M Cloud Library, a collection of downloadable books and audios available for Windham Public Library patrons. The collection, purchased and implemented thanks to the Annie Akers Bremon Fund, allowed patrons with electronic devices to bring the library with them wherever they went. The second was subscription to Zinio, a digital magazine service which allowed patrons access to current issues of nearly 50 magazine titles. In 2016 we added Comics Plus to our list of available downloadables. All of these services have been popular with the public.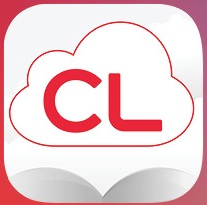 ---
Where will the library go from here?
Aside from a wide variety of books, the library provides movies, audios, music CDs, kits, Large Print materials, magazines, foreign language items, literacy items, genealogy and local history books, downloadbles, e-readers, and even a telescope! We provide programs for all age groups including weekly storytimes for babies and toddlers, various programs for 'tweens and teens, a monthly book group for adults, movie programs for all ages, a regularly-scheduled library Tea, monthly outreach deliveries, and Summer Reading Programs for all ages. We also provide popular services such as computer access, Wi-Fi, and programs on a variety of topics– all for free to anyone in the community.
We feel there is something for everyone here, and we are always changing to adapt to our community's needs. Check out our newsletters or our online calendar to see what we have going on. As our mission states, our goal is to inspire community members by "expanding minds, fulfilling informational needs and connecting community members to each other through its collection, programming and space for civic discourse". Whatever your needs, you can find it here!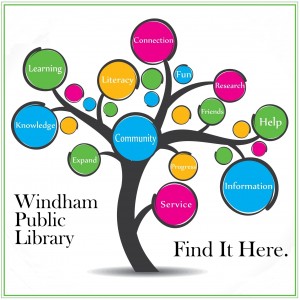 ---
(1) Lorenzen, Elsie B. "A past library." Town of Windham Annual Report, 1971 : p.98
(2) "Report of the Library Building Committee". Town of Windham Annual Report, 1970 : p.89
(3) "Report of the Library Building Committee". Town of Windham Annual Report, 1971 : p.97
(4) "Report of the Library Trustees". Town of Windham Annual Report, 1971 : p.99
(5) "Selectmen's Report". Town of Windham Annual Report, 1972 : p.50
(6) "Report of Library Trustees". Town of Windham Annual Report, 1972 : p.62-63
(7) "Report of Library Trustees". Town of Windham Annual Report, 1973 : p.85
(8) "Public Library Report". Town of Windham Annual Report, 1974 : p.52-53
(9) "Report of the Windham Public Library". Town of Windham Annual Report, 1992 : p.8
(10) "Report of the Windham Public Library". Town of Windham Annual Report, 1993 : p.7
-History compiled by Sally Bannen, updated 10-28-2015