Special Requests (ILL)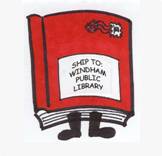 The Special Request Service (formerly Interlibrary Loan) allows patrons of the Windham Public Library to borrow items for FREE from lending libraries outside of the statewide system. We've received items from as far as away as Hawaii and Canada!
---
How do I make a request?
You can give your request in person when you are at the library. Just ask any staff member for a form.
You can call in your request: 892-1908.
You can email your request: just include your name, your library card #, and information about the item you need.
You can fill out an online Special Request form.
Or feel free to contact Sally Bannen, the librarian in charge of Special Requests, if you have any questions (892-1908 or via email).
---
General information about Special Requests
Items generally take 2-4 weeks to arrive. It depends on how promptly a library offers to lend the item and how quickly they mail it to us.
The service is FREE. However, the library does pay the postage for each item so please only request items that you truly want. Contact us promptly if you need to cancel a request.
You can request audios ("books on tape"), music, and movies.
You can request magazine/journal articles. Depending on the lending library and the number of pages requested, there may be a photocopy fee.
You can request special items such as foreign language books, large print books, etc.
We don't need title and author to request an item (although it is helpful). We will try to find the item you need based on whatever information you provide.
We don't need your phone or email contact when you make a request, provided that your Windham Public Library account is up-to-date. Sally will contact you as soon as your item arrives.
All items circulate for 3 weeks. Renewals may be allowed but only upon the lending library's approval. Contact Sally promptly so she can make the request.
We do not currently have a limit on the number of requests that a patron may make.